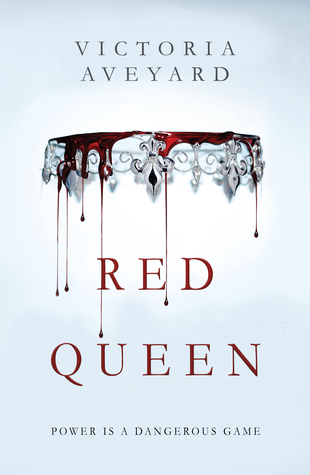 Title:
Red Queen
Author:
Victoria Aveyard
Published: February 2015
Synopsis:
The poverty stricken Reds are commoners, living under the rule of the Silvers, elite warriors with god-like powers.

To Mare Barrow, a 17-year-old Red girl from The Stilts, it looks like nothing will ever change.

Mare finds herself working in the Silver Palace, at the center of those she hates the most. She quickly discovers that, despite her red blood, she possesses a deadly power of her own. One that threatens to destroy Silver control.

But power is a dangerous game. And in this world divided by blood, who will win?
Red Queen is a fantasy dystopian that will have you hooked from the start. You're drawn to Mare as a character, and her struggle and her love for her family and you're rewarded with an epic story about a world that has a few more secrets than those living in it realize are there.
We first meet Mare Barrow weeks before she's supposed to be conscripted into the Red Army, where her chances of survival are pretty slim. The Red Army is so titled because it is an army of Reds, people with red blood and no "other worldly" talents. The gifted are the Silvers, each family has a unique talent, i.e. control fire or water or make plant life grow, and their blood is silver. The Silvers are also the ruling class and comprise the governance of the Kingdom.
The start of Red Queen really introduces you to the world. You get to see it through Mare's eyes and have the same understanding and distrust that she has; you get to see what it's like to be a Red. I loved how
Aveyard
really takes her time to open the world up in a natural way before jumping into all the crazy. As a reader, you get to see the rebellion and the subversive side of the Reds and get to know the players before the fighting begins. It's not how many stories do it. So many times you're thrown into the middle of the upheaval and you're learning the players and the rebellion while you're in the middle of the fighting. And I liked that you get a little bit more with each choice Mare makes, and that I wasn't thrown into the deep end and had to read my way out.
While Mare is dealing with the prospects of going to war and the changing family dynamics, she meets a hansom stranger who gets her a job working in the Silver Palace that will get her out of her conscription. This one chance meeting changes Mare's life forever, and she finds out that she has a talent of her own. This throws everything people thought they knew about their world upside down and could change things forever.
Now things could have gone all bats out of hell at this point with battles every chapter and things exploding all over. But I admire
Aveyard
's restraint to let the story grow and let let things happen how I would think they would have in a Court situation. I loved seeing the politics (it's VERY approachable) and how people were moving and positioning themselves to keep their secrets or to try and expose other's. It was fun watching the game of chess play out until we get to the point that we get our battle and then the game is still going. You're never quite sure what's going to happen next, and as a reader, that's everything!
There was one bit about 3/4 of the way through that kind of threw me pace wise and the writing got a little choppy for me (I did an advanced reader copy and forgot to mark the page to go back to look at the finished version, so this may have changed), but it did smooth out before the end. That was really my only issue with the book. I'm excited to see where the story goes from here and to see what's next for Mare and her fellow Reds.
Overall Rating:
Really a 3.5