The DUFF
by
Kody Keplinger
is hitting the big screen February of 2015! On Monday, the teaser trailer was debuted on CBS Films' Youtube.
The movie stars Mae Whitman as Bianca, Robbie Amell as Wesley and Bella Thorne as Madison.
Bianca (Mae Whitman) is a content high school senior whose world is shattered when she learns the student body knows her as 'The DUFF' (Designated Ugly Fat Friend) to her prettier, more popular friends (Skyler Samuels & Bianca Santos). Now, despite the words of caution from her favorite teacher (Ken Jeong), she puts aside the potential distraction of her crush, Toby (Nick Eversman), and enlists Wesley (Robbie Amell), a slick but charming jock, to help reinvent herself. To save her senior year from turning into a total disaster, Bianca must find the confidence to overthrow the school's ruthless label maker Madison (Bella Thorne) and remind everyone that no matter what people look or act like,
we are all someone's DUFF.
Be sure to follow The DUFF on
Facebook
,
Twitter
and
Tumblr
to keep up with all the latest.
Amber and I have been HUGE fans of Kody and The DUFF since Kody was agonizing over the cover on her blog. And, yes, we admit to the fact that the movie will not be 100% faithful adaptation from book to screen, we think that the snark and the fun nature of the book will be captured and we cannot wait for the movie.
As always, we encourage you to read the book before seeing the movie, especially in this case since it is one of our favorites.
Kody Keplinger:
Webpage
|
Twitter
|
Tumblr
|
Facebook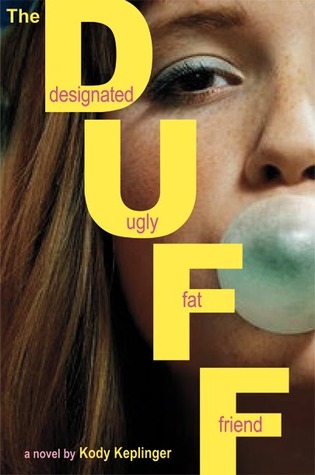 The DUFF:
Barnes & Noble
|
IndieBound
|
Books-A-Million
The DUFF on Audio:
Brilliance Audio
|
Barnes & Noble
|
Books-A-Million
Seventeen-year-old Bianca Piper is cynical and loyal, and she doesn't think she's the
prettiest of her friends by a long shot. She's also way too smart to fall for the charms of man-slut and slimy school hottie Wesley Rush. In fact, Bianca hates him. And when he nicknames her "Duffy," she throws her Coke in his face.

But things aren't so great at home right now. Desperate for a distraction, Bianca ends up kissing Wesley. And likes it. Eager for escape, she throws herself into a closeted enemies-with-benefits relationship with Wesley.

Until it all goes horribly awry. It turns out that Wesley isn't such a bad listener, and his life is pretty screwed up, too. Suddenly Bianca realizes with absolute horror that she's falling for the guy she thought she hated more than anyone.